Outworld is a realm in the Mortal Kombat series of fighting games.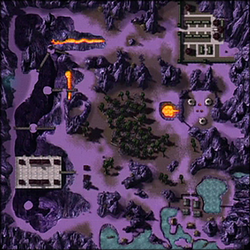 About Outworld
Edit
Outworld is a very old realm with a history that goes bakc millions of years and it is believed that Onaga the Dragon King as its first ruler. Another powerful ruler, Shao Kahn, who would eventually usurp him shared his vision of expanding the realm by taking over other realms through force. They were both being controlled by the remaining influence of the One Being. Outworld is an empire that encompasses numerous conqured worlds that have been annexed magically. Due to its tumultous nature, Outworld is in a constant state of turmoil and is has steadly become worse under Shao Kahn's reign.
Because of its magically compiled nature it is a very large realm of various landscapes. Although the realm's primary landscapes appear to be barren purple wastelands, deserts, pools of acid, dense forest of animated trees, and high mysterious mountians and caves. It is dotted with small villages throughout the landscape and it teems with magic. Outside the imperial palace, the temple of the Dragon King, and the city of Lei Chen, there have been no other real metropolises.
Native Species
Edit
Due to Outworld's composite structure, not all races found on Outworld are truly native to it, but some have been there for so long they have virtually become natives.

Originally NativeEdit
Cryomancers - Though now nearly extinct, they used to be a race that lived in Outworld long ago. They resemble very pale humans and have a natural affinity with ice. A few scattered descendants of this race live on Earthrealm (such as the ninjas Sub-Zero and Frost). It is unclear why their race died out.
Outworlders - Like most inhabitants of the realms of Mortal Kombat, Outworlders look like humans, but they seem to have a greater talent for magic and longer life expectancy. All Outworlders seen so far resemble East Asian people of Earthrealm. Though they dislike their rulers, each of them have their own schemes to attain more power and influence. There are only four known Outworlders, they are Li Mei, Bo' Rai Cho, Reiko, and Shao Kahn (though some ambiguously canon information would identify him as a god instead).
Originally Non-native or of Uncertain Origin
Edit
Notable Residents
Edit
Outworlders: Bo' Rai Cho, Li Mei, Reiko, Shao Kahn, Nadia.
Saurians: Chameleon, Khameleon, Reptile.
Shokan: Goro, Kintaro, Sheeva.
Tarkatans: Baraka.
Centaurians: Motaro.
Other: Ermac, Onaga, Mileena, Skarlet.
Non-Native
Edit
Seidans: Hotaru.
Earthrealmers: Kano, Shang Tsung, Shujinko, Red Dragon, Special Forces, Damon.
Netherrealmers: Quan Chi.
Vaeternean: Nitara.
Relationships with other Realms
Edit
Long millenia under the rule of a tyrannical emperor have put Outworld at odds with most other worlds and their inhabitants. The realms which have been merged with it over the years could be loosely called allies, only due to the fact their inhabitants were forced into submission to the emperor's might. Many inhabitants of these conquered realms, in fact, seek to separate their realms from Outworld and regain their freedom. Due to 10,000 years of opression under Shao Kahn following its annexation, Edenia has come to be a tenacious opponent of Outworld following its liberation. There is also little doubt that Earthrealm and Outworld are opposing realms; long did Kahn attempt to rule the realm through Mortal Kombat, and later through direct invasion during the time of MK3.
Citizens of Chaosrealm seem content to have Kahn rule Outworld (due to his aggressive nature) while the inhabitants of Orderrealm oppose his rule and the civil strife it has created. Under the rule of Onaga, the relationships between the two neutral realms were reversed, with the Orderrealm citizens contented with Outworld's rule and Chaosrealm inhabitants seeking the overthrow of the Dragon King. However, neither world can actively be called Outworld' ally in a true sense, because of the respective strict and chaotic natures of each world and their inhabitants.
The Netherrealm could be considered an ally under Kahn's rule as he has forged acquaintances there himself, although it was invaded during the MK3 timeframe.